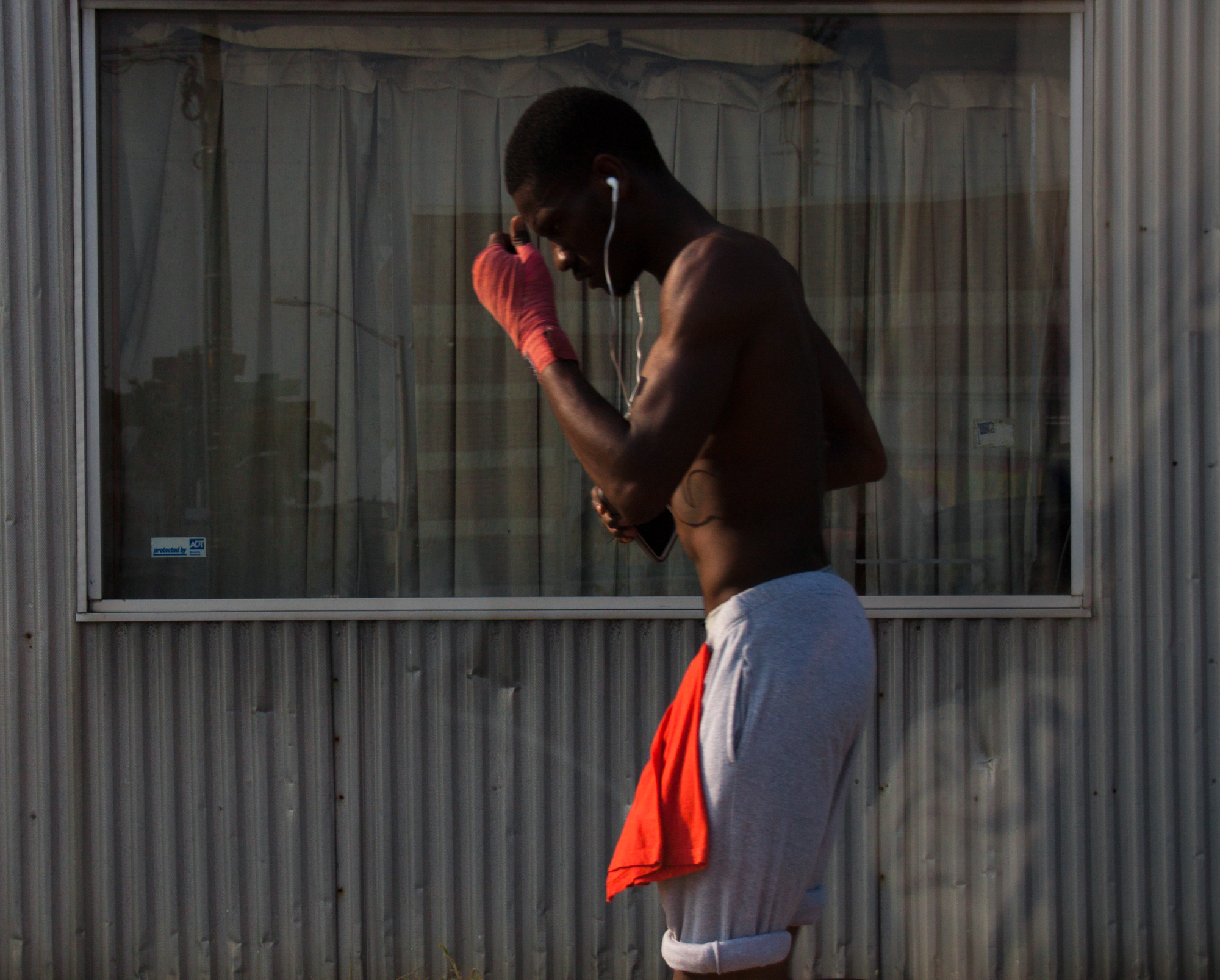 Artist Statement
'The Avenues' was born in 2011, a time where learning about myself, my new self, a street photographer seeking inspiration, took hold and began the journey I'm enjoying today.
The project's inception being after I returned to Philadelphia from living in Park Slope, Brooklyn. It was 2008-09 and I was exploring the many rich nooks of the various neighborhoods, happily getting lost day after day in the maze of streets.
At this time, I wasn't shooting people or portraits, I was more interested in the remnants of human behavior and its interaction, intersection and influence on architecture. I learned a lot about people by reading the graffiti, the jokes, seeing where the paint on the corner would give way to hundreds upon hundreds of daily physical disruptions. But what if those buildings were not there? I soon realized the reality within that hypothetical question.
One of my favorite buildings to observe was demolished in the late summer, and within a few short weeks, the framework for a condo complex was erected in its place. Long gone were the many messages written in school kid's chalk to a graffiti artist's spray paint and everything in between. The wooden skeletal tower cast a shadow across the corners where sunlight used to have full reign. I had my first taste of gentrification. It was sour, I have yet to observe anything I could call bittersweet.
I turned my attention to the people, to the individuals and families within many communities, and my work evolved into something largely preservative of the many 'types' of people one could meet in a predominantly African American neighborhood.
I didn't seek out to mimic any particular style from the heyday of film photography, I didn't want to play the role of a tour guide, nor was I interested in exploitative views of poverty and crime within so-called 'inner cities'. These solitary, introspective moments, had to be filled with confidence, pride and sometimes, a sense of detachment from the moment. I sought out color, and commonality of the uses of color from neighborhood to neighborhood, city to city. Often times I would photograph my subject in sojourn with their vanishing spaces in silhouette; not just to protect their sense of privacy, but to symbolize the feelings of their growing invisibility when faced with these larger, transformative forces.
'The Avenues' attracted a great deal of attention to my work, many times as a way of making sense or putting a face on a buzzword. I exhibited the work in three solo shows, several group exhibitions and limited edition prints were acquired by art collections here in the US and internationally.
Got The Light, Gotta Run, 2014
Graceful in West Philly, 2015
Tasker Street Glide, 2014
Help Us Help Others, 2015
Your Rights Can Be Gone In A Flash, 2016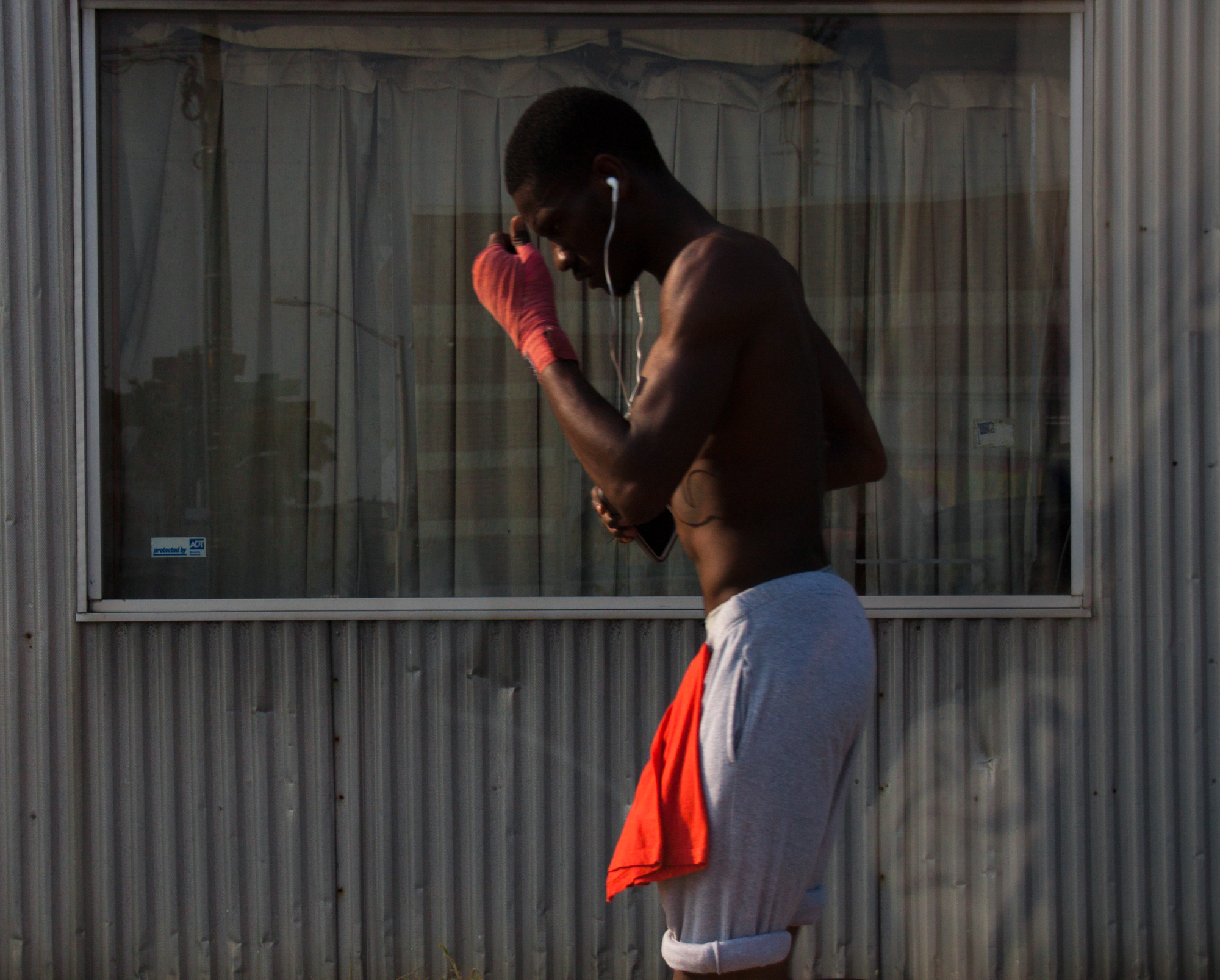 A Young Soul Near The Uptown Theater, 2015
'Remarks - The Avenues' by Najja Zimele-Keita
Moving across a stylistic continuum—reportage, editorial, portraiture street, photographer Shawn Theodore's work is defiant and not simply in regards to labels, but the regime of images that deny blackness its nuance and depth.
Working under the moniker xST, pronounced exist, he reflects a defiant, punk, brand of blackness, one which regards, rules, formalism, aesthetic orthodoxy-- -with a certain contempt. Theodore has spent the past 5 years literally shooting from the hip, following rich Black traditions of improvisational style, to realize a vision of a more artfully driven blend of street and studio technique.
New York City, Baltimore, Oakland, Camden, and Philadelphia have all offered themselves as the lens for Theodore's exploration of the disappearing Black communities that have been the lifeblood of this country. Theodore's sensibility for composition is uncanny. Behind the camera he operates like a storyteller, conjuring shadow and light, line and color. Some photographs open up, radiant before the eye. Others require more of the viewer, like fruit trees, yielding their bounty when most ripe.
Stories lie at the nexus of Theodore's practice. His subjects and their stories, a continual affirmation for those who, while oft overlooked, are in no way unsure of their own agency. His tough-but- tender youngsters, the effortless élan of church folks, hustlers, pariahs, haints and saints bending the corners of well-worn avenues, all of them stand in defiance of a monolithic, easily stereotyped blackness.
Punk blackness, black punkness, has little to do with music and everything to do with the ties that bind our innumerable Black experiences. that speaks for itself, by itself, in its own idioms and body language.
"When you see my work, you should see me." – Roy DeCarava